ITV's Catchphrase is back after 11 years. Presenter Stephen Mulhern hosted the gameshow that attracted over 5 million viewers on Sunday. Stephen Mulhern is of course Britain's Got More Talent presenter and he is perfect for the revival of Catchphrase. At least that's what 5 million viewers say. We are sure this will continue to be a best-viewed show.
---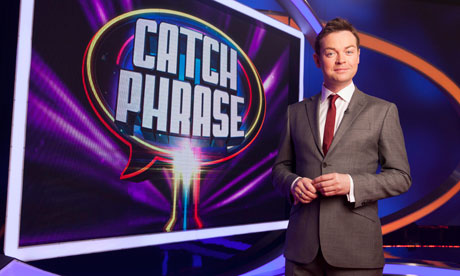 Catchphrase: the new series is fronted by Stephen Mulhern. Photograph: ITV
It has been off TV screens for more than a decade but the return of gameshow Catchphrase to ITV proved a Sunday teatime hit with more than 5 million viewers.
Originally hosted by comic Roy Walker, Catchphrase returned with former magician and occasional This Morning presenter Stephen Mulhern at the helm.
It began a new eight-part run with 5.1 million viewers, a 24.1% share of the audience, between 6.45pm and 7.30pm.
It briefly eclipsed BBC1's Countryfile but the rural affairs show took the lead to end up with an average of 6.3 million viewers (28.4%) between 7pm and 8pm.
Catchphrase, which last aired in 2002, was followed by another new ITV show, hidden camera series Off Their Rockers in which "senior citizens play pranks on the public". It drew 5.2 million viewers, a 22.5% share.
---
Finish this article here: http://www.guardian.co.uk/media/2013/apr/08/itv-catchphrase-tv-ratings
ITV's Catchphrase is back.  Did you watch?  If so, how did you like it?  Did it deliver whatever it is you like about game shows?  If not, what is your favourite game show and what makes it the best?